Kuntaw Tournament
Saturday, August 17, 2019
Get ready for our 1st Annual "THE BATTLE OF THE WARRIORS" at the Saint Gregory Church Gym! Presented by Grandmaster Cyrus R. Lagumen, Sr.
Registration: 9:00am
Competition Begins: 11:00am
Black Belt Meeting: 10:00am
Entry Fee: $60 one to three events
Demo Team: $75 (3 or more members)
Spectator: $7 – under age 5 free
No checks – No refunds – Cash only
$100 cash awarded to every school with 15 or more registered competitors (Not including demo team)
A total of 125 divisions
1st to 4th place trophies
Finalist medals for all children
All sparring gear must cover hands and feet striking surfaces
Mandatory sparring gear: Head, hands, feet, mouthpiece, and men's groin cup
Womens chest protectors recommended
Demo team 5 minutes time limit (No concrete or glass)
Non-competing/non-judging Black belt MUST pay a spectator's fee
Black Belts: Please be in uniform, let's set a good example for our kids.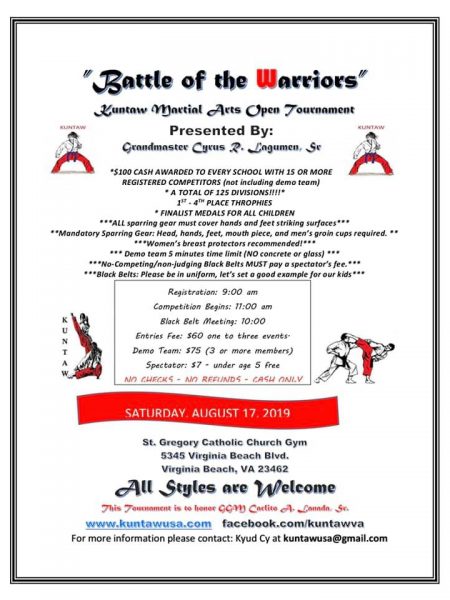 St. Gregory Catholic Church Gym
5345 Virginia Beach Blvd.
Virginia Beach, VA 23462
All Styles Welcome
This tournament is to honor GGM Carlito A Lanada, Sr.
www.kuntawusa.com facebook.com/kuntawava
For more information please contact: Kyud Cy at kuntawusa@gmail.com